Bourbon Theatre Information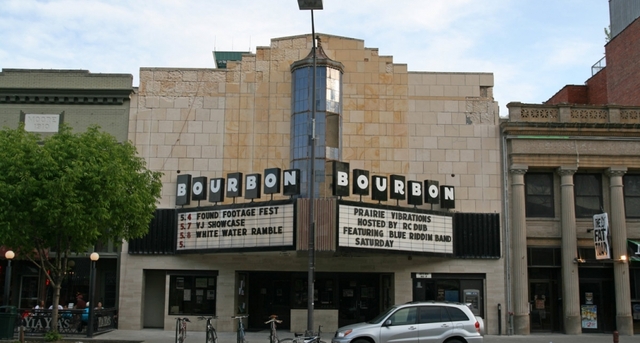 About

The Bourbon Theatre brings a non-stop line up of unmissable music acts to it's stage year after year and is known all around for being iconic.
Set in Lincoln, Nebraska, the music venue not only has seen performances from musical legends of all genre types, but it also has an impressive historical background which is clear from the moment you enter it's doors.
The building itself originally opened all the way back in 1931 as the popular place to see movies as soon as they were released. As a traditional 950 seated movie theatre, it was an exciting place to visit and to be whisked away to magical places through the art of film, as the theatre showcased the latest black and white movies as well as some of the very first technicolours to exsist.
The venue continued to act as a theatre for many years until later recieving it's renovation and becoming the Bourbon Theatre in 2007.
Now the building is most commonly used to host groundbreaking performances, from local bands and solo artists to the hottest names as they stop off on their exciting world tours.
Since then music fans from around the state travel down to be mesmerized by live concerts and performances. Some of the greatest bands to have previously played the Bourbon Theatre include the likes of; Dave Matthews Band, Foster the People and Yellowcard, along with countless local acts.
The Bourbon Theatre never fails to give the perfect live experience and has become renowned for being one of the top venues within the Lincoln area and tickets for live shows often sell out fast.
This historical venue is an exciting and enticing place to witness your favorite music…. so why not make a visit to catch your number one must-see artist while they're in town?!
Address
1415 O St, Lincoln, NE 68508, United States
Contact
Email at
[email protected]

Box Office Hours

The Box Office is open between Tuesday to Friday -11am to 6pm
(During any show)
Additional links for Bourbon Theatre:
Ticket Policy:
Read ticket policies and important authenticity guarantees for any tickets purchased via this site.
Seating Map:
Check out the Bourbon Theatre seating chart and view different seating options.
Parking Information:
Read more about parking at Bourbon Theatre and driving to the venue.