Bourbon Theatre Seating Chart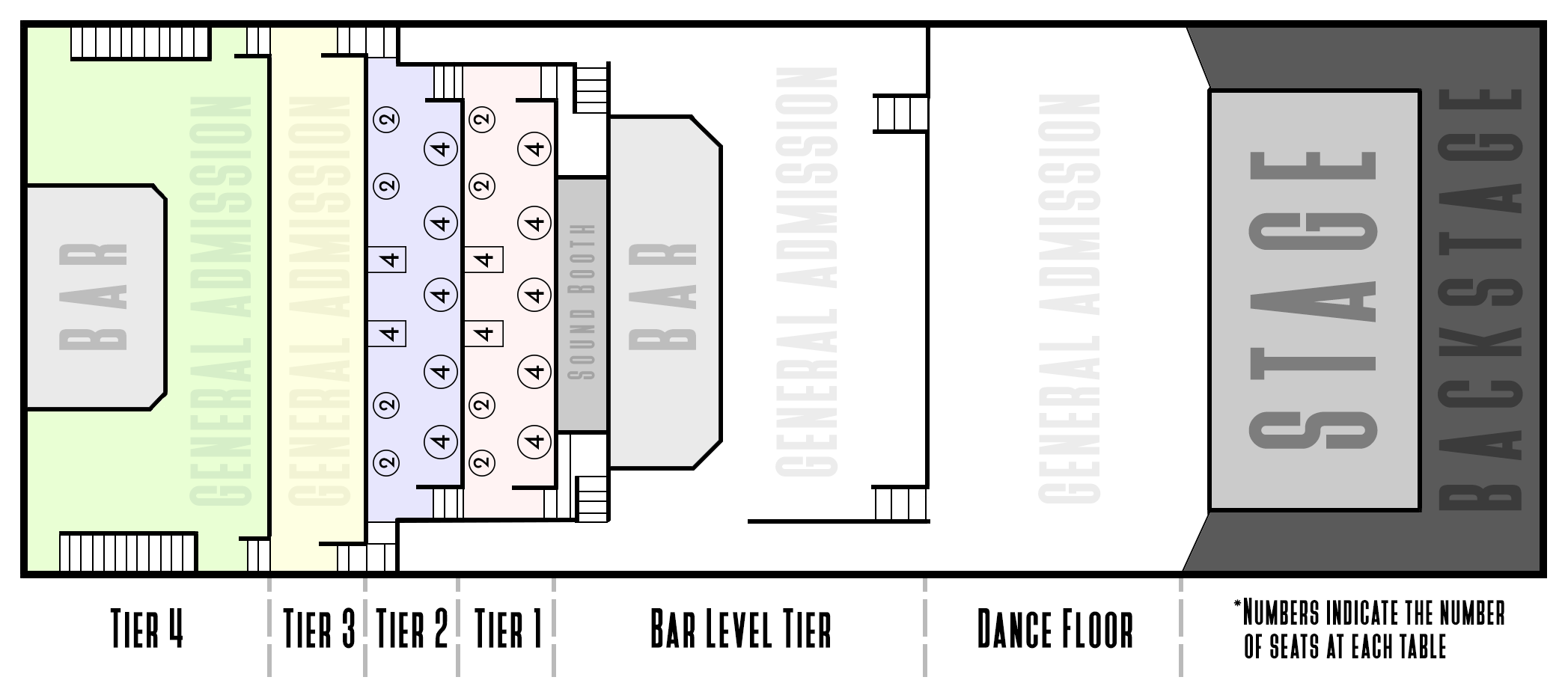 Whether you love to rock and roll or prefer an acoustic setting, the Bourbon Theatre has got you well and truly covered. With an incredible main venue space that can hold a total of 637 standing and a seating capacity for 300 – there's plenty of seating and standing options for all kinds of performances.
The Bourbon Theatre is arranged into tiers, starting with the first general admisson area right at the front of the stage which is called the dancefloor area. Next you will find bar level tier, this is the perfect spot if you want to make the most of having first serve on drinks during the concert.
If you're looking to book a seating option for your visit, then you may want to book a seat in tiers 1 or 2. Both tier 1 and tier 2 give sensational views across the venue and to the stage and flawless sound situated just behind the sound booth itself.
For other standing options, the Bourbon Theatre also provides an extra two tiers 3 and 4 for further general admission which is a great setting for sold out events and when the venue is at full capacity.
So the choice is yours! If you want to get up close and personal to your favorite band or solo artist then select general admission in the dance floor area. Or if you prefer to enjoy your performance from a comfortable seat, book yourself a table in the tiers 1 or 2.
Where-ever you stand or sit during your event at the Bourbon Theatre – there's no doubt in mind that you will have an unforgettable time and enjoyable experience from start to finish…
Come and witness it all for yourself as the bands hit the stage and light up the venue for an exciting night of live music at the Bourbon Theatre!
NOTE: Different events may require different seating arrangements. When selecting your tickets double check the seating chart for the specific event layout.
You can reserve your ticket today and secure the best seats. Check out the Bourbon Theatre schedule to see all upcoming events.
For all ticket policies and authenticity guarantees see the ticket information page.